The Regina Winery was one of the first to import Falabella's to the United States from the Falabella Ranch in Argentina. John Ellena, one of the owners of the Regina Winery, had 12 Falabellas miniature horses imported from Argentina to his farm in California in 1962. Mr. Ellena thought these tiny horses would be a great attraction for promoting Regina Winery. He had six brought to the Regina Winery grounds in 1965 to pull the famous scaled down stagecoach which displayed, Regina Winery Stage Line, Buenos Aires, Argentina. Mr. Ellena had six stalls made out of huge wine barrels, which can be seen in the photo. Each horse's name was shown above the door. The Falabellas were known as Miniature Lilliputian Horses and Falabella Lilliputian Miniature Horses.
The falabellas were a major attraction until early 1970, at which time Regina Winery merged with Heublein of CT. It was Heublein's decision to discontinue this attraction.
Mr. Ellena, owner of Regina Winery at the time of the sale, passed away the next year in 1971.
Mr. Norman Fuller purchased the herd of Falabella miniature horses in late 1971, and transported them to his farm in Mira Loma, CA. He intended to feature them as an attraction in his planned family recreation park, Running Springs Recreation Park. Unfortunately, this park was never opened.
Mr. Fuller did continue to breed the horses, and registered them in AMHR and in AMHA. These horses appear regularly in the pedigrees of today's American bred Falabellas.
When the twelve were originally imported from Argentina, their pedigrees were not recorded. Of the 12 Falabellas imported; registration for 10 of those original 12 imports appear below.
Regina Winery Original Falabella Imports
Reg Number
Name
Color
Size
1014P
Senor
ChPinto
30 inches
1015P
Chianti
Blk LApp
32
10014B
Barberra
Black
34
1020P
Angelico
White
33
1921P
Pearlette
White
34
1023P
Sherry
Chestnut
34
1034P
Champagne
Dk Chestnt
34
1025P
Senorita
Dk Chestnut
33
1026P
Regina
Black
33
1027P
Morsola
Black
33
The original six horse hitch consisted of Senor, Chianti, Regina, Sherry, Champagne and Seniorita.
Later, Grenache, Burgundy and Barberra were added.
The horses of the Regina Winery had a huge impact on the Falabella lines of today. Many pedigrees trace to these old lines.
This information was obtained in numerous interviews with Dixie Blasingame of Shadow Oaks Farm; the very proud owner of Chianti.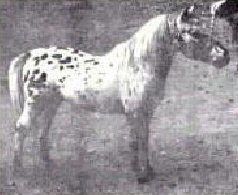 Chianti